A MOBILE PHARMACY TO GET TO THE LOCATIONS OF DISASTERS AND TO THE MOST REMOTE COMMUNITIES AND VILLAGES! 
ALL FLOOR PLANS ARE CUSTOMER SPECIFIC. PLEASE CONTACT ONE OF OUR SALES ASSOCIATES TO HELP YOU DEVELOP A FLOOR PLAN THAT SPECIFICALLY MEETS YOUR NEEDS!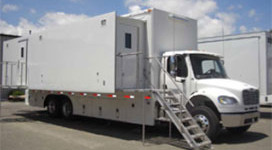 Rapid Mobility Mobile Pharmacy Unit (30′)(9M)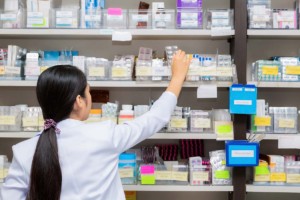 Our highly mobile and rapidly deployable Rapid Mobility Mobile Pharmacy Unit is designed for every day use as a wellness clinic. Then when required, it can be quickly transformed into a mobile retail pharmacy facility complete with an office, lavatory, pharmacy distribution counter and a front-end store. This unit can also be retrofitted for use as a clean room.
This facility is built on a 45′ (13.3M) Freightliner or Kenworth Heavy Duty Truck Chassis so it is self propelled. The chassis comes standard as a 2-wheel drive vehicle. However, if required, it can be upgraded to 6-wheel drive for additional off road capability.
The primary mission of this rapid mobility mobile pharmacy is a wellness clinic. However, when a natural disaster occurs and there is a need for temporary pharmacy (due to a severely damaged retail pharmacy store caused by the disaster), this mobile facility can quickly be transformed into a fully operational pharmacy store. There are many situations where this rapid mobility solution is a better solution than our larger 53′ (16M) mobile pharmacies. Some of situations might be:
The bridges and roads may be blocked from use by larger trailers by the Department of Transportation.
The lost store might only need a smaller temporary pharmaceutical store.
The parking lot (at the site of the store suffering from the disaster) is too small for the larger trailers to enter and park.
Another mission this facility could be used for is a front-end store at major sporting events such as: football games, NASCAR, or any other major sporting activity. You could also use this mobile facility as a "Show" unit providing marketing material at major conventions.
Mobile Healthcare Facilities has a design that utilizes different modular packages that can quickly be replaced to accomplish the different missions required.
The superstructure of this unit is all aluminum with two (2) full-length slides (one on each side of the trailer). These expandable walls almost triple the interior space inside the truck facility.
This mobile pharmacy can be rapidly set up and struck. It can be set up and struck within thirty (30) minutes with four (4) people.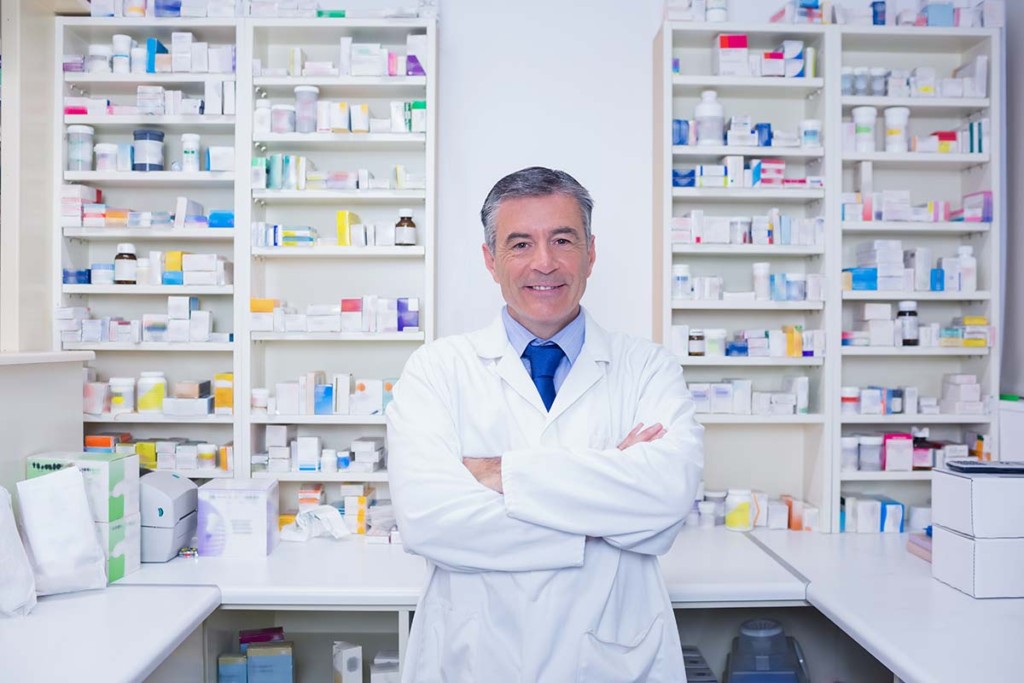 We maximize the internal space proving our pharmaceutical customers with effective and efficient solutions. Since you are different and different problems that need to be solved, Mobile Healthcare Facilities will work directly with you to provide a customized solution.
For basic layout designs, contact one of our sales personnel and we will provide you a couple possible generic layouts to review. We will then work with you to design a mobile solution that will meet your specific needs.
This 30′ (9M) double expandable self-propelled pharmacy can also be used by hospitals if there is a need for a small and mobile pharmacy. We will customize the specific pharmacy to meets your needs. Contact one of our sales representatives and we would be happy to design a large hospital pharmacy for you.
Providing YOU, the Pharmacist and Pharmaceutical Technician, the perfect mobile pharmacy to properly dispense pharmaceuticals to your customers!
Why choose Mobile Healthcare Facilities' Rapid Mobility Mobile Pharmacy Unit?
Compare our Rapidly Mobility Mobile Pharmacy Facility to our competitor's mobile pharmacy units (Quality, Capabilities, and Price) and you are sure to choose Mobile Healthcare Facilities' Rapid Mobility Mobile Pharmacy Unit.